ABOUT PMPL
VN FALL
The era of the new season is here! PUBG Mobile Pro League (PMPL) with the theme BE THE ONE is a battle amongst four major regions (ID, TH, VN, MY/SG/PH) to win the championship throughout Southeast Asia.
Every squad must be prepared their finest performance to take on this challenge and emerge victorious! We can't wait to witness the legends to act and fight their way to the epic battle!
Are you ready to BE THE #1?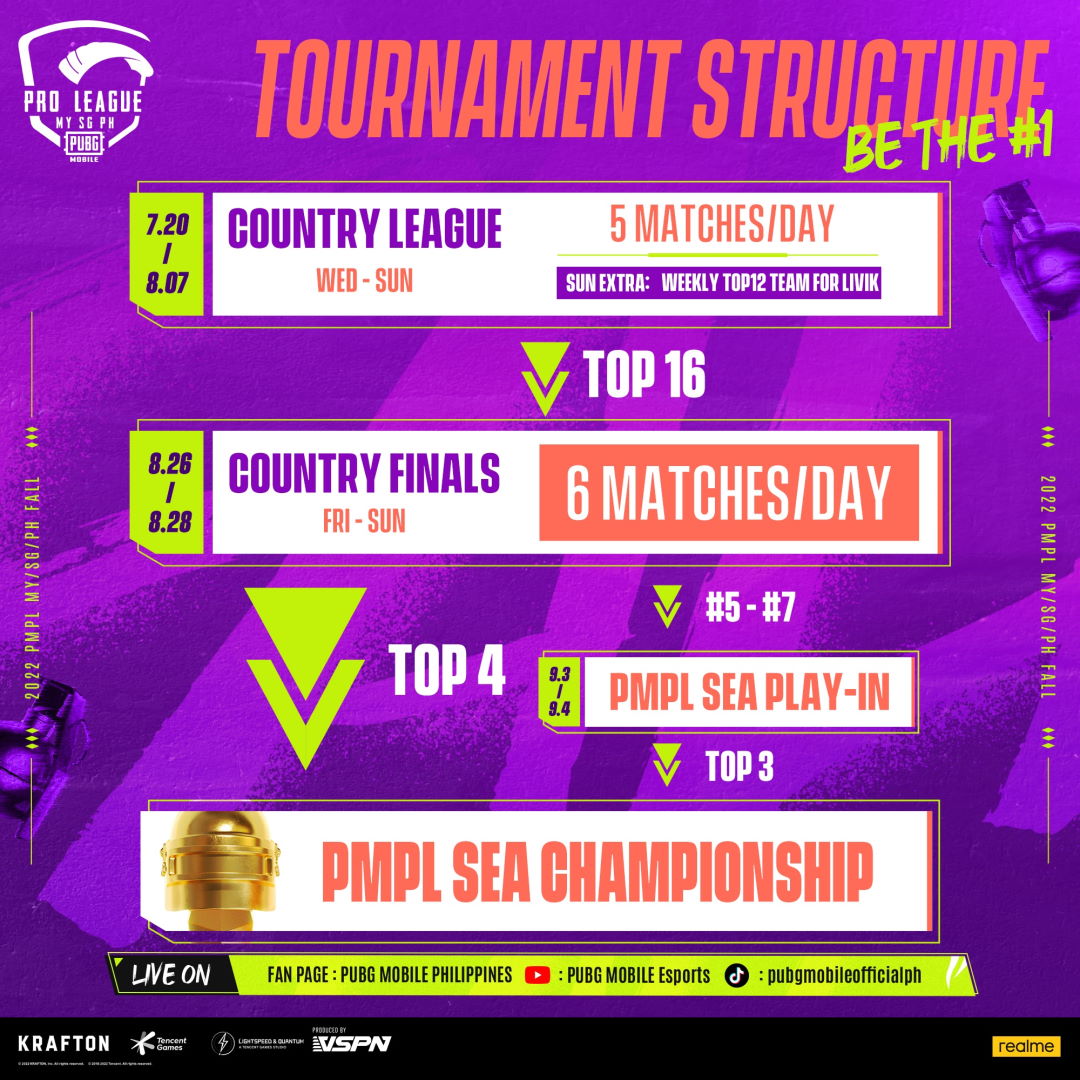 | Place | Team | Score | Bonus |
| --- | --- | --- | --- |
| 1 | DX | 253 | 20 |
| 2 | 2E | 243 | 19 |
| 3 | SLD | 221 | 18 |
| 4 | VGM | 186 | 17 |
| 5 | BN | 183 | 16 |
| 6 | 4NIX | 181 | 15 |
| 7 | BOX | 177 | 14 |
| 8 | EP | 172 | 13 |
| 9 | TM | 152 | 12 |
| 10 | GOAT | 150 | 11 |
| 11 | 1M | 152 | 10 |
| 12 | GH | 140 | 9 |
| 13 | L2F | 122 | 8 |
| 14 | RICH | 118 | 7 |
| 15 | ROY | 114 | 6 |
| 16 | ROYT | 111 | 5 |
| 17 | IQ | 106 | 4 |
| 18 | MOC | 98 | 3 |
| 19 | RL | 83 | 2 |
| 20 | MG | 83 | 1 |
| Place | Team | Score | Bonus |
| --- | --- | --- | --- |
| 11 | 1M | 152 | 10 |
| 12 | GH | 140 | 9 |
| 13 | L2F | 122 | 8 |
| 14 | RICH | 118 | 7 |
| 15 | ROY | 114 | 6 |
| 16 | ROYT | 111 | 5 |
| 17 | IQ | 106 | 4 |
| 18 | MOC | 98 | 3 |
| 19 | RL | 83 | 2 |
| 20 | MG | 83 | 1 |
| Place | Team | Score | Bonus |
| --- | --- | --- | --- |
| 1 | BOX | 302 | 20 |
| 2 | VGM | 242 | 19 |
| 3 | 2E | 240 | 18 |
| 4 | DX | 216 | 17 |
| 5 | EP | 193 | 16 |
| 6 | RICH | 187 | 15 |
| 7 | 1M | 163 | 14 |
| 8 | TM | 156 | 13 |
| 9 | SLD | 154 | 12 |
| 10 | 4NIX | 147 | 11 |
| 11 | BN | 150 | 10 |
| 12 | ROYT | 146 | 9 |
| 13 | MOC | 111 | 8 |
| 14 | MG | 110 | 7 |
| 15 | RL | 106 | 6 |
| 16 | L2F | 97 | 5 |
| 17 | GOAT | 96 | 4 |
| 18 | ROY | 95 | 3 |
| 19 | IQ | 75 | 2 |
| 20 | GH | 54 | 1 |
| Place | Team | Score | Bonus |
| --- | --- | --- | --- |
| 11 | BN | 150 | 10 |
| 12 | ROYT | 146 | 9 |
| 13 | MOC | 111 | 8 |
| 14 | MG | 110 | 7 |
| 15 | RL | 106 | 6 |
| 16 | L2F | 97 | 5 |
| 17 | GOAT | 96 | 4 |
| 18 | ROY | 95 | 3 |
| 19 | IQ | 75 | 2 |
| 20 | GH | 54 | 1 |
| Place | Team | Score | Bonus |
| --- | --- | --- | --- |
| 1 | DX | 244 | 20 |
| 2 | RL | 216 | 19 |
| 3 | TM | 203 | 18 |
| 4 | BN | 202 | 17 |
| 5 | VGM | 199 | 16 |
| 6 | 1M | 192 | 15 |
| 7 | 2E | 177 | 14 |
| 8 | EP | 153 | 13 |
| 9 | BOX | 151 | 12 |
| 10 | ROY | 142 | 11 |
| 11 | RICH | 140 | 10 |
| 12 | L2F | 138 | 9 |
| 13 | MOC | 125 | 8 |
| 14 | GH | 124 | 7 |
| 15 | GOAT | 122 | 6 |
| 16 | ROYT | 118 | 5 |
| 17 | SLD | 116 | 4 |
| 18 | IQ | 104 | 3 |
| 19 | MG | 84 | 2 |
| 20 | 4NIX | 79 | 1 |
| Place | Team | Score | Bonus |
| --- | --- | --- | --- |
| 11 | RICH | 140 | 10 |
| 12 | L2F | 138 | 9 |
| 13 | MOC | 125 | 8 |
| 14 | GH | 124 | 7 |
| 15 | GOAT | 122 | 6 |
| 16 | ROYT | 118 | 5 |
| 17 | SLD | 116 | 4 |
| 18 | IQ | 104 | 3 |
| 19 | MG | 84 | 2 |
| 20 | 4NIX | 79 | 1 |
| Place | Team | Score |
| --- | --- | --- |
| - | 1M | - |
| - | BN | - |
| - | BOX | - |
| - | DX | - |
| - | 2E | - |
| - | EP | - |
| - | GOAT | - |
| - | L2F | - |
| - | 4NIX | - |
| - | RL | - |
| - | ROY | - |
| - | ROYT | - |
| - | SLD | - |
| - | RICH | - |
| - | TM | - |
| - | VGM | - |
| Place | Team | Score |
| --- | --- | --- |
| - | 4NIX | - |
| - | RL | - |
| - | ROY | - |
| - | ROYT | - |
| - | SLD | - |
| - | RICH | - |
| - | TM | - |
| - | VGM | - |